Residential Services.
At Dries Plumbing, we offer free estimates on all types of plumbing projects including new home construction, home remodeling, new bathrooms and bathroom remodeling as well as emergency plumbing repairs. Our experienced professionals have been trained to exceed your expectations and go the extra mile to make sure your project is completed to your satisfaction. We also understand the value of your home and property, so we strive to work carefully and leave it cleaner than when we found it.
We have the expertise to handle all kinds of residential plumbing needs like kitchen and bath installations, faucet service and installation, washing machine hookups, dishwasher installations, toilet service and installation as well as the replacement of leaking cast iron pipes, galvanized pipes, metal pipes and PVC drain pipes.
We specialize in the installation and replacement of water heaters, water softeners and sump pumps. Each of our vehicles is plumber's shop on wheel, completely stocked with the tools and products needed to ensure we have everything we need to solve your problem. Contact us today for a free estimate on any residential plumbing need you may have.
Residential Services include: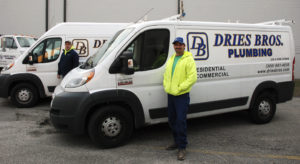 Video inspection of Sewer
Free Estimates
Tank-less water heaters
Gas Piping
Garbage Disposals
Repair of Frozen Water lines
Remodels
Water Heaters
Water Softeners
Faucet Repair / Replacement
Sump Pumps / Sewage Pumps
Backflow Tests
Tub / Shower Replacement
Water Services Repaired and Replaced