Effective Water Heater Repair in Peoria IL
If your water heater has been plaguing you with problems, you may need a repair. Call the experts at Dries Brothers Plumbing and we'll address it for you. As a family owned and operated business, you can rest assured we value our local clients. Committed to 100 percent customer satisfaction, our team can come to your home or business and troubleshoot the issue. We can then give you an estimate on the cost to repair it. For effective water heater repair in Peoria IL, come to Dries Brothers.
Common Signs of Water Heater Repair
Your water heater may be trying to tell you something. Here are some signs that you may need a repair: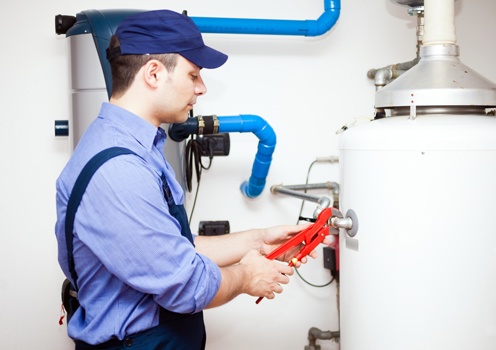 Tepid water. You may find yourself turning up the temperature on the tank's thermostat to get it warmer. However, if you keep having to do this, it could be a sign of impending failure.
No hot water. This is a clear sign something's wrong. When you don't get hot water at all from the shower or faucets, your pilot light may have blown out if you have a gas heater. Another possibility is a problem with the heating element or the thermocouple.
Odor. Smelly hot water can tell you that your tank is infected with bacteria. You can flush the tank, then fill it with water and hydrogen peroxide. Let it sit for a couple of hours before flushing with fresh water. If the smell remains, call a contractor.
Noises. If your water tank is very noisy, this could signal sediment at the bottom, causing the heating element to burn that debris. A simple fix could be to drain your water tank and clean it. Your plumber can do this for you. He or she can also let you know if the heating element has to be replaced.
Leaks. Once you have a leak, your tank is on its way out. Time for a new one! Don't wait for an emergency flood.
Contact Dries Bros. Plumbing for Water Heater Repair in Peoria
To inquire about water heater repair in Peoria IL, please call Dries Bros. at 309-691-4535 or request a quote online today. You can find us at 1519 W. Altorfer Dr. right here in Peoria.